Smontabilità ®
We give you the possibility to make the harpsichord separable into two distinct parts – the instrument's "body" and the manual(s).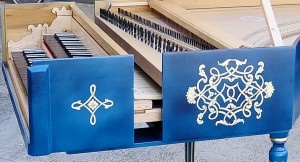 Both parts can be separately transported in two distinct cases with reductions in size (-25/30 cm) and weight (- 15/20 kg). The division, operated during the construction of the wrest plank and the front, does not cause problems of recomposition of the instrument, since the manual(s) can be put direct in the body like a drawer and also does not prejudice in any way the sound and the functionality of the instrument.
This great innovation is ideal for the transport of the harpsichord. It was patented by us during the 90ties and it is suitable for any type of harpsichord, single or double manual.